27 Inspiring Examples of Brands With a Soul
Take a look at these examples of brands with souls, and get equipped to brainstorm some creative ways to show off your brand's soul, capture loyal customers, and build better customer relationships along the way.
In today's heavily automated, digital-everything world, it's no surprise that people are attracted to brands with a soul. These companies make human connections part of their brand's DNA.
Take Toms shoes, for example.
By highlighting their buy a pair/donate a pair philosophy, customers became excited to make a purchase and help someone in need. Toms grew to $625 million, with a large thanks to this type of soul-driven, purpose marketing.
However, you don't have to follow a buy one/give one model to foster soul in your brand.
And every company on this list proves it.
They learned how to create a brand with a soul, and today we'll reveal how to do it right!
You'll then be equipped to brainstorm some creative ways to show off your brand's soul, capture loyal customers, and build better customer relationships along the way.
How Exactly Does a Brand Have a Soul?
What qualifies as the soul of a brand? How can a brand even have a soul? Isn't that reserved for living things only?
In theory, yes. But in practice, no.
The brands on today's list aim to show off their human side, which so many digital brands lack.
An honorable mention here is going to be Amazon.
Primarily, the foresight that Jeff Bezos had way back in 1999.
He was so far ahead of the curve, talking about the importance of customer experience, meanwhile, the media laughed at him. Well, who's laughing now?
Examples of how to humanize brand marketing:
Now, you'll find plenty of articles to teach you how to build a brand with a soul. But we'd prefer to show you 20+ insanely good examples of brands already crushing it.
27 Memorable Brands, Jam-Packed with Soul
Our top picks for brands with a soul span across several different industries. We chose these brands to prove that you don't have to be a corporate robot, no matter what sector you're in.
TransferWise, a company that aims to bring transparency to finance by charging as little as possible when it comes to exchange rates, is the perfect example of a brand with soul.
They take a borderline boring topic and transform it into something cool and extremely useful for their customers. Transferwise is one of the most trusted platforms out there, and it definitely shows.
Their messaging, especially across their social media platforms, highlights this well:
On their Facebook page (pictured above), TransferWise uses fun emojis (#mindblown) and a conversational tone as if they were posting for their friends.
This conversational style and relevant emoji use carry throughout their Twitter (pictured below) and Instagram pages too:
Even their calls to action — Help us end the rate ripoff! — show they're on their customers' sides and care about them.
TeePublic, the world's largest marketplace for independent creators, focuses on helping people turn their passion into profit:
Unlike most t-shirt brands, artists are paid well with each purchase made. They also finally have a place to feel supported.
TeePublic goes a step further when it comes to their environmental impact by using the following practices to reduce their carbon footprint:
Sustainable and toxin-free printing partners.
Water-based, vegan-friendly, 100% biodegradable inks.
Ethical manufacturing that's certified WRAP and focused on improved labor standards.
Funraise, a popular non-profit fundraising tool, is bursting with so much personality and soul, it's literally shining in their logo (which replaces the "u" in their name with a smiley face):
But it's not just their logo that stands out in the soul factor.
Their mission is to help people raise the necessary funds for their chosen non-profits. They do this by making fundraising easier (and more fun) than ever.
Phrases like these show that they only want to help people help those in need, which is the definition of having a good soul:
"Our cause is to further your cause"
"Focus on your mission, we'll do the rest"
"Build your movement"
Higher Logic is a human-focused Engagement Platform. The SaaS platform is made up of Community and Communications software that helps companies and associations create deep engagement with their base. Higher Logic's brand soul goes deeper than social media personality or copy on a website – they get to know their customers through their communities.
The soul starts at the center – the employee community, the OC, where the CEO posts weekly video updates, employees can join special interest groups like the P.R.I.D.E., Minorities in Tech, and Women in Tech sub-communities.
Customers don't miss out either – Any user can sign into the customer community, HUG, and connect with other customers, staff, and partners.
G2 has named them a 6x leader in online community management software.
Along with building community, Higher Logic also tries to showcase real people – their customers – on social media as much as possible.
Higher Logic even has a mascot – a frog named Floyd – who adds personality across their marketing initiatives.
Nextiva is a unique brand that oozes personality, despite being in one of the most boring and unsexiest industries out there – VoIP.
Blah, who cares about cloud based phone systems, right? Well, if you didn't know, VoIP is a staggering 57.5 billion dollar market, and is expected to surpass 70 billion by 2021.
Nextiva does a cool job branding themselves as a commercial phone system with superpowers. Based out of sunny Scottsdale, Arizona, they've made an interesting use of branded hashtags, #AmazingService and #TeamNextiva as a branding element.
Nextiva also emphasizes their positive company culture all over their landing pages as social proof. This is backed by their recognition from Glassdoor, being named one of the Top 100 Tech Companies to Work For in 2020.
Nextiva also invests significantly into YouTube, often supporting industry recognition and achievements with brand videos to complement their marketing efforts.
Flockjay, a company focused on enabling salespeople to thrive professionally, has both a powerful mission and strong messaging to match:
Instead of only focusing their attention on making money and increasing profits like most sales training companies, their mission is to empower salespeople to improve their lives.
They believe in investing in salespeople and helping them succeed – a truly great sign of a brand with a soul.
Prince Multiverse, which offers personalized coaching services, is all about helping people change their lives and realize their full potential.
The company hopes to inspire and empower people to take charge of their success and engineer their life in a truly meaningful way.
The next example also encourages people to live better:
The Art of Manliness (AOM) embodies having a huge soul (with lots of masculine energy).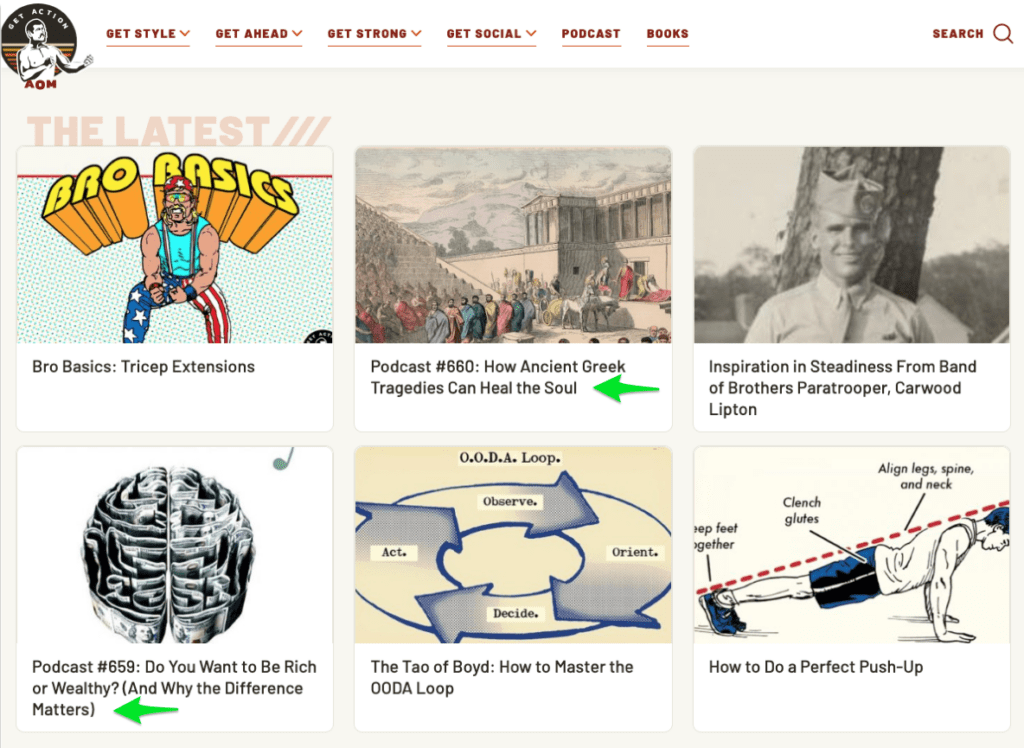 The AOM team believes in teaching men to live a life of eudaimonia, which translates to skill, flourishing, excellence, and virtue, all things you'd expect in a good soul.
They focus their efforts on helping men improve every aspect of their lives, from their careers and abilities to personal character and relationships. Men can find advice and actionable tips to help them grow and reach their full potential.
DUDE products, a line of "futuristic hygiene products," may not be empowering their customers to live better emotionally, but they are helping them feel good physically.
Their brand is a perfect example of how to ooze personality by bringing a fresh perspective to a topic that's not usually discussed in public.
Check out their bold messaging on a product most guys aren't bragging about:
Their upgraded bidet attachment is "guaranteed to leave your privates poopless." And if that's not a message packed with soul and humor, we don't know what is.
Check out this YouTube video for their product, Dude Wipes. Pretty hilarious!
While you'll find loads of dairy-free milks on the market, few are bringing soul to the industry like Goodmylk does.
In messaging to show off their "uncompromising quality" and real-food ingredients, Goodmylk says their product is "mylk like your mom would make."
This kind of messaging connects with people and makes them want to pull out some freshly-made cookies to sip alongside their product. Goodmylk uses this human connection (i.e., nostalgia) to tell buyers they "get" them.
Our next example takes a similar approach:
Morning Brew is an email newsletter promising to make you smarter in just five minutes a day. Their team discovered how to turn a tedious activity like reading the newspaper into something more impactful and enjoyable.
By sourcing and distilling the top news stories, readers capture everything they need to know in easily-digestible, bite-sized articles. Customers score all the details minus the extra fluff.
Their messaging says, "cut through the clutter of dense, traditional business news," so you save time and stay informed.
Morning Brew's "Fresh off the coffee maker" line of products (pictured above) adds even more personality to their brand and shows off their soul well.
Liquid Death Mountain Water (LDMW) proves you don't have to be all rainbows, butterflies, and unicorns to have a brand soul.
As you can see in their messaging below, LDMW uses phrases like, "Murder your thirst," "Crack open a water," "Summon Us," and "Hell Yes" to convey their brand's soul without compromising their personality:
They also use metal show terms like "Merch Store," which aligns to the rock band theme with most of their brand. Super rad.
Essential oil company dōTerra puts their soul on display by explaining why their sourcing is so essential to their mission:
In the image above, you can see that they're "committed to making a positive difference in the lives of their farmers, harvesters, and distillers," which is awesome to see.
They go on to describe their Co-Impact Sourcing standards that promote:
Environmental stewardship.
Long-term, mutually beneficial supplier relationships.
Sustainable jobs.
Reliable income with on-time payments.
Ethical treatment.
These qualities definitely prove that dōTerra's company has a warm, winning soul.
Culver's is a fast-food chain hoping to connect with customers on more than their tasty burgers and custard.
Land on their About Us page, and you'll find all the policies their team holds in esteem, such as:
Genuinely caring about customers and the quality of the products they produce.
Practicing hometown hospitality.
Encouraging team members and customers to find something good in every moment.
Promoting an environment of kindness and doing the right thing.
These are all values you'd expect parents to teach their kids, so it's a real treat to see a big brand, and a fast-food chain at that, promoting these high standards.
Culver's also created the Thank You Farmers Project, which helps support local farmers and food banks. To date, they've helped raise over $170,000 with this impactful initiative. Talk about having a great soul as a brand!
Used car company CarMax is another big name with a surprisingly soulful side.
At their core, CarMax aims to revamp a process most people hate (buying a used car). Since opening its doors, the company has made car-buying a more pleasurable, transparent, quick, and easy process with its unique policies.
CarMax gives customers:
A "hassle-free kind of happy."
A 7-day money-back guarantee.
Absolutely zero haggling or pressure to buy.
These policies counteract the anxiety customers usually feel at local dealerships during this process. CarMax buyers feel more comfortable and at ease as a result.
It's this exceptional service that gives CarMax a soul and reason to land on our list.
On top of having the cutest must-haves for fur babies at affordable prices, online pet supply company Chewy goes the extra mile for customers when their pets pass away.
As soon as customers cancel their recurring Autoship orders due to a pet passing, Chewy's team sends out condolence flowers and a sympathy card to show they really care.
This is something most brands wouldn't ever bother with, and it's why Chewy stands out as top-notch on our list.
Women's clothing line ModCloth wins the award for being an all-inclusive brand with a soul.
The company has mastered the art of inclusive advertising by regularly featuring customer-submitted photos so shoppers can see what their clothes look like on real bodies.
They hire models in all shapes and sizes, even some with disabilities, to pose their fab pieces on their website too:
It's this extra care and attention to making everyone feel welcomed that makes their brand more personal for customers, no matter what they look like.
Out of all the airlines flying the friendly skies, Southwest may have the biggest soul when it comes to caring about their customers.
The Southwest team aspires to:
Live every day like it's customer appreciation day.
Drop bag fees (to save customers money).
Eliminate change fees (to help customers adjust plans at the last minute sans penalties).
Prioritize "Transfarency," so the fare you see is the one you pay — no worrying about hidden fees later on.
These extra features prove Southwest caters to providing a great customer experience in order to differentiate from their competitors. We can definitely get behind that.
Healthy meal delivery service Daily Harvest shows off their brand's soul using casual messaging that connects:
As you can see from the images above, Daily Harvest takes a conversational tone with their messaging as if a friend is talking to you, not a big name brand.
Using words like "boom," "actually," and "undeniably" conveys a warm, friendly vibe that's more human in nature than sales-y.
Gravy, a company that helps other businesses improve their customer retention and failed payments, also takes a human approach to something that's usually cold and automated:
In their messaging above, you can see that they're all about helping customers succeed. As a result, customers know a win for Gravy means both parties benefit, which builds trust and fosters a beneficial relationship for everyone involved.
UK-based Boom Cycle spin classes weave undeniable human qualities throughout their brand messaging. And they're not afraid to show off their high-fiving energy.
In the messaging below, you'll see how they use their copy to support, entertain, and encourage customers to break a sweat and enjoy their workout:
The brand also promotes an all-inclusive environment, which is exactly what the fitness industry needs these days.
What about brands that infuse soul directly into their products? That's what streetwear clothing line Culture Kings has going for them:
Their Snapback of the Year and Old Golfer products (pictured above) mesh classic old-school feels with modern vibes to create a signature style. And this carries over to the brand's social media posts:
You can see this latest sneaker drop (pictured above) was created to celebrate the 30th anniversary of the Nike Air Max 90 sneakers. Their choice of color is an ode to an old school original and grabs the attention of anyone scrolling by.
Supreme Streetwear, which recently sold for $2.1 billion to Vans and Timberland, injects soul directly in their products just like Culture Kings:
In their Hype Streetwear collection, they pulled together the hottest looks that make streetwear seem straight off the runway.
Their "Cop Fast While Supplies Last" tagline also perfectly matches the brand's personality, as does their FTP product line (which we had to blur out for obvious reasons).
While this brand's soul is a little more in-your-face than others on this list, it embodies the attitudes of their customers. And it explains why the brand has done so well after all these years.
Genesys is a SaaS company that's humanizing their brand through online communities:
The team at Genesys realized how inefficient it was to ask their customer support team to answer technical questions in their online community. They also wanted to make this process more enjoyable for everyone involved.
So Genesys decided to record a TV-like video series called the Community Q&A to solve both problems simultaneously. Their team pre-records videos on specific topics and uses them to answer customer questions as they pop up. Browsers can also quickly jump to specific topics they need help with.
Rather than having to read over a solution, customers can watch the engaging videos and follow along with step-by-step visuals, which is always more helpful.
The Genesys team said they enjoyed making these videos, and feedback from their customers shows they also dug them.
This proves displaying your brand's soul isn't limited to your products and messaging.
You can try any popular CRM tool to help manage the various streams of customer communication with your brand, but ultimately a tool will not save your brand if your company doesn't prioritize it and make it a top focus.
Offering genuine and authentic customer support is always the best way to connect and bring the human touch back to a highly automated digital world.
GoSkills has the ethos of life-long learning and continuous self-improvement at the heart and soul of its brand.
Born from the need for high-quality, to-the-point business courses for busy professionals, GoSkills has grown to help over 250,000 learners and 3,000 businesses achieve their learning and development goals.
The company's messaging is designed to help make learning fun, not scary. In the image below for GoSkills' most popular Excel courses, the learner is ascending the mountain to slay the dragon and conquer their fear of Excel.
GoSkills regularly sends messages of encouragement to motivate learners to complete their courses, encapsulating the brand's mission of helping their customers succeed.
The brand's friendly personality is an extension of GoSkills' company culture, known for its openness, inclusivity, and sense of fun. The 100% remote, fully distributed team is becoming a force to be reckoned with in the world of online learning.
Speaking on matters of the soul, Docebo, a world-leading AI enterprise training software with early roots in Biassono, Italy, should not be overlooked.
With more than 2,000 leading brands training customers, partners, and employees around the world with its cloud-based learning platform (AWS, Walmart, Uber, Docusign – to name a few) Docebo injects passion, humor, and a just plain human approach to their brand marketing.
Here's a few reasons Docebo is bringing us back to life with their ultra-real branding.
They're proud of their roots and own it.
Unlike other brands who skirt around where they came from, Docebo is proud to show off its Italian roots and culture. With 6 offices around the world, Docebo is a global force to be reckoned with in e-learning, but they still find the time to remember where they came from.
Docebo's Learning Elevated Podcast: This L&D podcast brings humor, warmth, and passion to an industry that can often be deemed traditional or institutional. Who says L&D can't be a good time? Not this brand.
They recognize their customers not only as people – but friends, and shine a spotlight on their goals when they achieve them.
Now more than ever, the world is listening to what Docebo has to say as they support Enterprises worldwide to train in remote times, and frankly, we're thrilled they're relaying their message in a way that all of us can relate to.
LeadFuze is essentially a search engine for leads and is a go-to solution for thousands of sales professionals, recruiters, and startups. They focus their brand heavily around education.
LeadFuze publishes content daily, and even at times multiple times per day. They aren't your run of the mill, 500-word blog post either, we're talking 2,500+ words per post.
Additionally, video is an important element to their education. They have an on-demand demo with videos covering various topics to guide you through the product before you even use it.
Of course, once you're in the app, there are videos on every single page of the app to dive into more advanced strategies. These videos can also be accessible in their knowledge base for consuming them later.
Speaking of their knowledge base, most of the articles include a video embed, along with a written version full of screenshots to walk you through the help you might need in whatever format you desire.
Your Brand Can Have a Soul, Too
After scanning through all those examples, you should know more than a few successful ways to add soul to your brand, no matter what industry you're in.
Giving back to your community and the environment are no-brainers when it comes to building your brand's soul.
The key to adding soul is to hone in on your brand's personality.
Think about all the ways you can show people the "human side" to your company. Then, try to connect with your audience based on the shared issues or beliefs you both care about.
Do this, and you'll better resonate with your audience, create brand ambassadors for life, and take your company to the next level.