CAREERS
At Higher Logic, our team is our community.
We are innovators & pioneers in community software – connecting people, knowledge and ideas.  Our software fosters belonging and growth, and so does our culture. Come join our team.  
Why Higher Logic?
We are a strong community.
We strive to ensure our employees feel valued, cared for, and understood. Our employees are the root of our company culture and our #AllTogether approach by collaborating in meaningful, productive ways and supporting each other.

We adapt to change; change helps us grow.
We foster a positive, flexible, and growth mindset environment for employees to grow and do great work. We encourage and challenge our employees to bring their best, authentic selves to work.
We help you care for your whole self.
With a holistic approach to employee health, we provide global benefits and resources to take care of your physical, mental, and financial health.
We are a remote-first workplace.
We are a fully distributed team and all Higher Logic employees work remotely. We have team members in 3 countries and 29 states across the U.S. We provide remote tools and services needed to work remotely.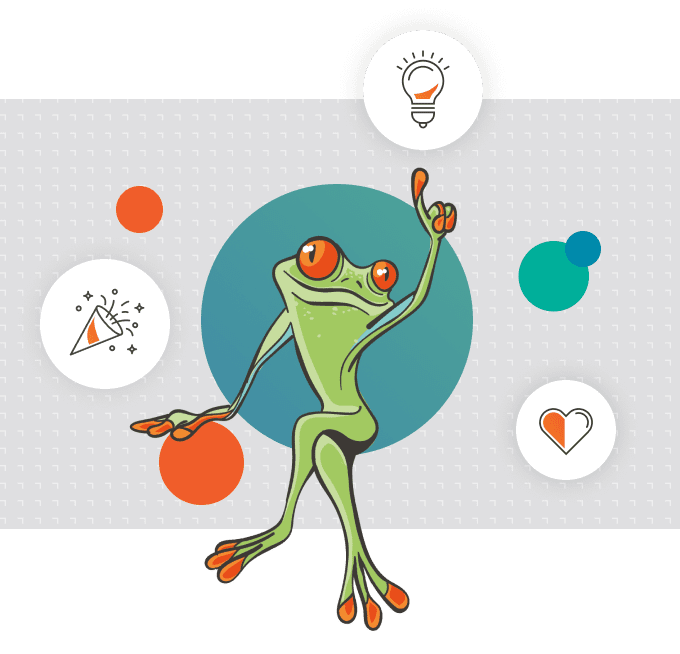 Meet Floyd
Meet Floyd. Our red-eyed tree frog is an icon and the heart of our community. A group of frogs is called an army, and we are a group of passionate individuals known as the #OrangeArmy. When we say #OrangeArmy, we're talking about a team that cares, shares and dares together. We stand together to make a difference for our customers.
Culture Matters: Our Core Values
At Higher Logic, our culture is the core of who we are. We live our values as we work together to fulfill our purpose.
Casual Approachability
We assume positive intent; we are accessible, open and transparent.

Conscious Inclusivity
We solicit feedback & intentionally engage different perspectives; we are empathetic & supportive.
Energetic Excellence
We take initiative, approach challenges with curiosity with a growth mindset. We are proud of the work we do.
Authentic Character
We are honest and genuine. We speak up and out, maintaining high expectations.
Our Commitment to Diversity, Equity, Inclusion, and Belonging.
We believe in nurturing a diverse and inclusive team of people where different perspectives and experiences flourish, for the benefit of our employees and our customers. 
We also believe that diversity and empathy form the bedrock for meaningful collaboration and thriving community. 
DEIB
Our programs outline our commitment to building a more diverse and inclusive workforce to bring us #AllTogether.
All Together Council
An employee-led group that create initiatives to provide awareness, education and dialogue for our DEIB programs.
Employee Resource Groups
Employee Resource Groups (ERGs) are employee-led groups to foster and promote a sense of belonging and community.
Interested in joining Higher Logic?
Explore our open opportunities and apply today.