Member engagement is at the heart of what we do. Higher Logic Thrive helps members realize value, driving growth for your association and your mission.
Drive deep engagement by creating a space for your members to connect anytime, anywhere - in the online platform, via email or in the app.
Automated campaigns or one-off emails reach your members' inboxes with the right message at the right time.
Connect your member data using the built-in Member Management tool or leverage one of our AMS integrations.
Unlock the full potential of your community with a range of add-ons tailored to meet even the most unique association use cases, including Volunteer Manager, Mentor Match, Learning and more!
Your Tech Stack, Simplified
Simplify your tech stack with everything you need to find, engage and retain your members in one powerful solution.

Get Started Fast
Out-of-the-box templates and pre-built campaigns will have you delivering member value in no time.

Affordable and Scalable
Flexible pricing for associations of all sizes. Get the solution you need at a price you can afford without compromising on quality.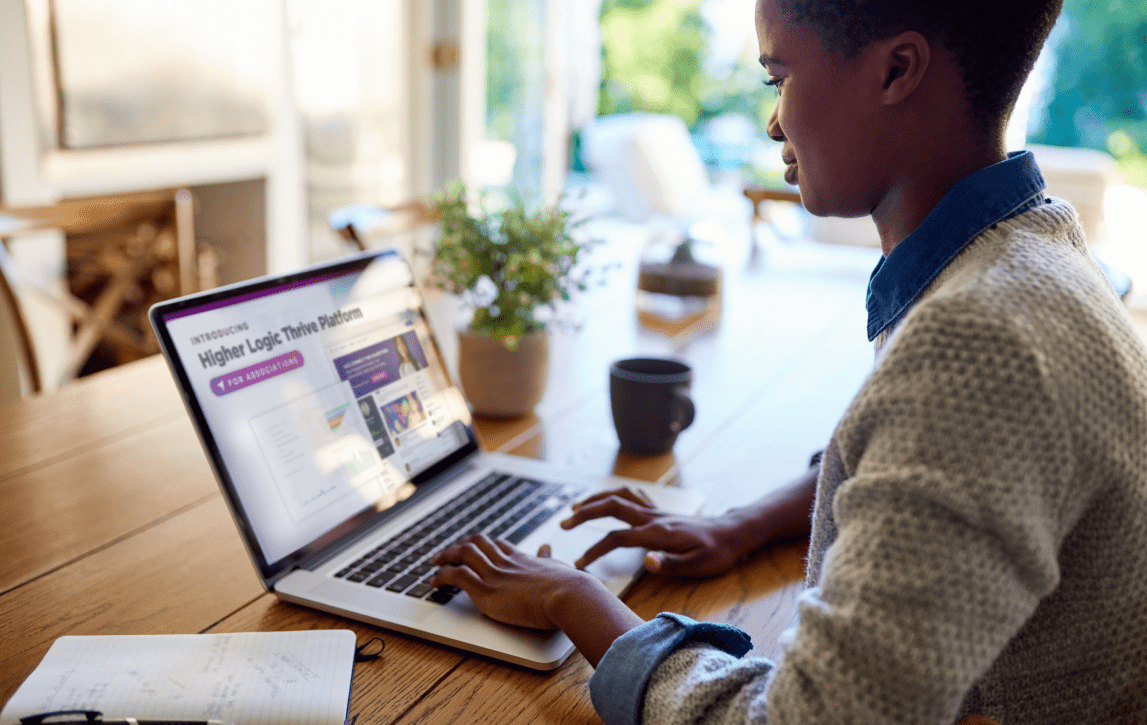 Where Members Connect
See why your peers are making the move to Higher Logic Thrive to engage members and drive value.
3,000+
Customers
The most trusted solution in the association community space.
27%
Improvement
Increase active users with Higher Logic Thrive's intuitive and easy to use features.
42+
Countries
Used and loved by associations and their members around the world.
99%
Deliverability
Confidently reach inboxes with industry-leading deliverability.
Just what you need
Our flexible, white-label solution can be tailored to your brand's look and feel. Easily configurable layouts let you highlight your most important member benefits, events and resources.
HUG: Your Community Home
The Higher Logic Users Group (HUG) connects you with an active community of professionals like you. Share knowledge, ideas, and inspiration to improve your organization and member experience.

Enhance Knowledge
Learn from others who share your passion during live and on-demand events and trainings.
Strengthen Outcomes
Discover how others are leveling up member engagement to improve their industries and further their missions.
Connect With Your Peers
Tap into a lively network facing the same opportunities and challenges as you.
Higher Logic Thrive FAQ
We often hear that an association's online community is their number one benefit because it strengthens the value a member feels their association delivers by being the place members can gather and share resources, privately, online.  
Yes! Capture the interest of potential members to improve member acquisition with forms on your landing pages, nurture them along the membership journey with automated pre-built member recruitment campaigns, and offer them a peek into a welcoming community that awaits them when they join! 
Getting started with Higher Logic Thrive is easy! Implementation times vary, but once it is complete you can get started right away with easy-to-use out-of-the-box templates.  
Using the right technology is key to improving your association's marketing efforts, and Higher Logic Thrive boasts a 99% deliverability rate. From there, leverage Higher Logic Services+ expert advisors as your partners to ensure you are achieving your goals, meeting the needs of your members, and maximizing the value of your Higher Logic solution. 
Higher Logic Thrive seamlessly integrates with your core association tech stack to maximize staff efficiency. Some associations have even replaced separate, disparate solutions with the all-in-one Higher Logic Thrive Platform.  
Higher Logic Thrive is designed to fit your needs with flexible pricing for associations of all sizes. Our team would be happy to start the conversation and provide a personalized quote depending on your unique needs.
What Our Customers Are Saying
Higher Logic Thrive has helped us reduce clicks for our members and make it easy for them to get to the sections of our community they care about. And the look and feel is so modern and user-friendly. It gives members a nice home base where they can access everything they want.

Molly Hauber

Manager of Membership, Alliance of Community Health Plans

We appear a lot bigger than we are and then people are surprised to find out we only have two full time staff members and one hourly, part-time employee. Higher Logic Thrive Platform helps us do that. It's easy to use and it has everything we need in one place. It helps us achieve so much more than we could with just the two of us and it boosts our reputation really well.

Gray Rodriguez

Director of Communications, Film Festival Alliance

Higher Logic Thrive lets us streamline the member experience and our members love it - that's what matters most.

Monica Escobar

Senior Manager, Member Engagement, ASIS International

It's really been a way to get a sense of what our members care about and to use that to inform decisions. The number one benefit for internal staff is learning what is important for these folks in their day-to-day jobs. And that's incredibly helpful when we're trying to think of new content ideas – we can pull what's popular from the community and create resources and guidance around it.

Joey Martelli

Advocacy and Public Affairs Manager, Society of Health and Physical Educators (SHAPE) America
Case Studies
FFA Streamlined Their Tech Stack and Improved Member Engagement
FFA used Higher Logic Thrive Platform alongside a rebrand to refresh their member experience, consolidate their tech stack, save staff time, and drive higher member engagement.
Read Now
SHAPE America's Community Provides a Real-Time Download Of Member Needs
SHAPE America's online community helps them understand what's most important to their members so they can better create resources to engage and support them.
Read Now
ACHP Improved Efficiency and Member Engagement with Community
ACHP's Higher Logic Thrive community helps them drive internal efficiencies, save staff time, and create a user-friendly member experience. After upgrading to Higher Logic Thrive they saw a 27% increase in first-time logins and more member activity, posts, and replies.
Read Now
Ready to drive
deeper member engagement? Let's talk.