Higher Logic Thrive Marketing Overview
Boost engagement and create efficiency with personalized communications and automated campaigns.
Confidently send the right message to the right person at the right time with Higher Logic Thrive Marketing's industry-leading 99% deliverability rate.
Flexible Templates

Community and Events

Save time with easy-to-use pre-built email templates. Want to build your own? You can do that too in our simple WYSIWYG tool or in HTML.

Customizing your templates to your brand has never been easier, plus you can save them so you don't need to rebuild with every send.
Test templates using a virtual inbox and apply changes to templates currently in use.

Dynamic Content & Segmentation

Dynamic Content & Segmentation

Easily refine your targeting to make messages feel personal.

Target group segmentation helps you effectively tailor your communications.
Show sections of your emails to a subset of subscribers with powerful story level targeting.

Automated Campaigns or Messages

Automated Campaigns or Messages

The choice is yours! Use robust automated campaigns designed on years of experience, research, and feedback with solutions to your challenges built right in – or send individual, standalone messages.

Easy-to-build individual messages are effective for sending urgent communications or newsletters.
Create staff efficiency with automated campaigns triggered on member data, activity, or inactivity.

Web Tracking

Web Tracking

Use digital body language to better understand your contact's interests.

Understand exactly how members are engaging using activity data that can be reflected on their member record.
Apply insights gained from user activity to understand how to deliver membership value.

Landing Pages

Landing Pages

Easily collect leads, showcase your content, or help you collect information on people who are interested in any event, program, or service your association offers.

Create gated assets with a form in a snap. Feed those individuals into a target group for nurturing.
Collect interest on any topic or RSVPs on events your association holds for further communicating with that segment.

Engagement Scoring & Analytics

Engagement Scoring & Analytics

Gain insight from engagement scoring, reporting, and web tracking so you can refine your offerings and prove ROI.

Proprietary engagement scoring helps you understand how engaged your members are so you can take action before it's too late.
Email analytics help you refine your programs to make them even more effective.
Powerful Member Experiences in One Easy-to-Use Platform
Drive member acquisition
Grow your audience through automated campaigns, targeted messaging, and understanding what prospective members are looking for.
Boost member engagement
Give your members a place to experience the value of membership connect, learn or grow.
Increase member retention
Member engagement scores help you understand who's at risk and how to mitigate that to make renewal decisions a no-brainer.
Flexible Pricing for Associations of All Sizes
Engage each individual easily

Tailor every email or automated campaign with dynamic content, segmentation, and personalization. Integrations with your AMS or online community make adding lists a breeze.

Simplicity is built in

Save time with pre-built email templates and automated campaigns based on nearly two decades of association experience.

Refine your programs with data

Gain insight from engagement scoring, reporting, and web tracking so you can refine your offerings and prove ROI.

Your members, connected

Discussions, Q&A, libraries and events bring your members together and keep them coming back.

Uncover deeper insights

Track activity trends, discussion topics, and searches in the community for deeper insights into what your members need.

Scale as you grow

Grow your community offerings through third-party integrations or additional functionality like learning, mentoring, and multisite management.

The complete member engagement solution

All the features of community, marketing automation and member management in one integrated experience.

Designed with you in mind

Higher Logic Thrive Platform was made for associations, built on years of experience, research, and feedback with solutions to your challenges built right in.

Streamlined, usable member data

Bring the full member experience together, whether you're prospecting, managing renewals, or growing non-dues revenue.

Get started quick

Prebuilt communities and email campaigns, tailored to your needs, get you up and running in no time at all.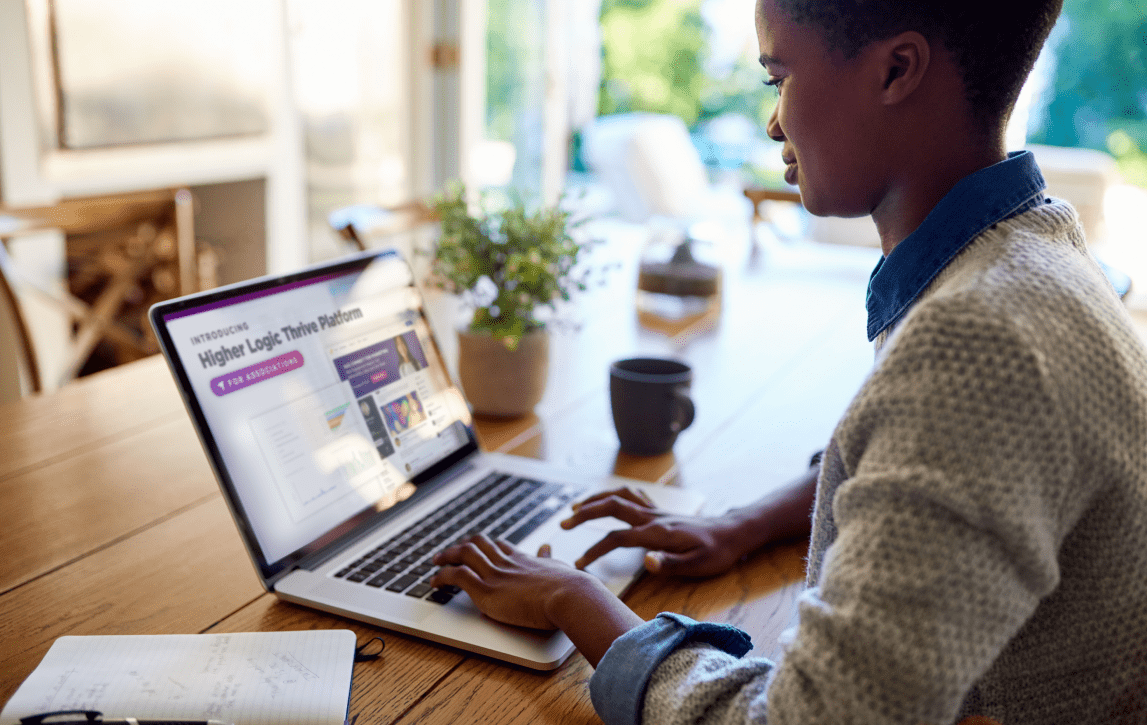 Are you ready to thrive?
See how Higher Logic Thrive can help you make a positive impact on the complete member lifecycle.
Trending Resources in Member Marketing & Communications
Tags: Report
The 2023 Association Community Benchmark Report
Compare your association's community health with others in the industry with Higher Logic's 2023 Association Community Benchmark.
Get Your Copy
Ready to see what Higher Logic Thrive can do for you?
Let's talk about how we can help your association spark engagement, improve member retention and achieve growth.